Familiar with Amir chaghmagh
Amir-e-Khemmaq is a field in Yazd, which was built during Timurian times and consists of a market, a mosque, a mooring, and two reservoirs. From the very beginning, this field was one of the main fields of the city where people gathered for various ceremonies. Amir Chamgaq Square and its monuments are one of the most prominent historical and tourism collections in Yazd.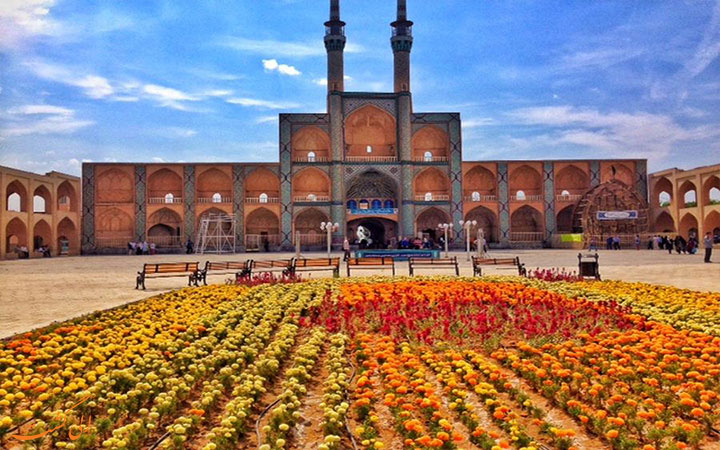 In the 8th century, the ruler of the city of Yazd, Amir Jalaluddin Chohmaq decides to build a collection of mosques, markets, and more in this part of the city for the further prosperity of Yazd. In the year 1330, Amir Chakhmagh, the Amir Chakhmagh mosque in 1342, and in 2006 it was placed in the list of national works of Iran. This square, which is considered the symbol of Yazd city, is located along the Salman-Farsi street and its route is a car, but it is supposed to be converted to the sidewalk in order to preserve this historical complex soon. Recently, the field of view with the dash and sculptures of Messi has become more attractive and magnificent. In the corner of this square you see a great palm that has been in this place since Safavid times and is used at the ceremony of Muharram.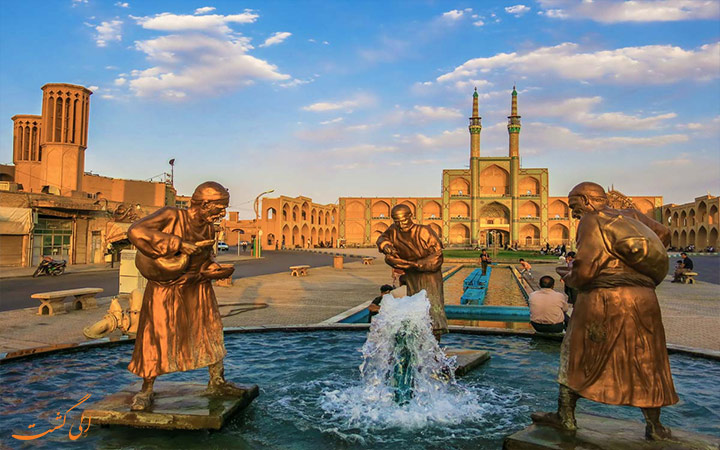 Amir Chammaq mosque
On the southern side of this square, the Amir Chakhmakh mosque was built in 841 AH. The beauty and magnitude of this mosque is so much that after the mosque of Yazd is the second most important mosque in Yazd. The dome of the mosque is curved and cracked, covered with green tiles and surrounded by inscriptions on the Kofi line.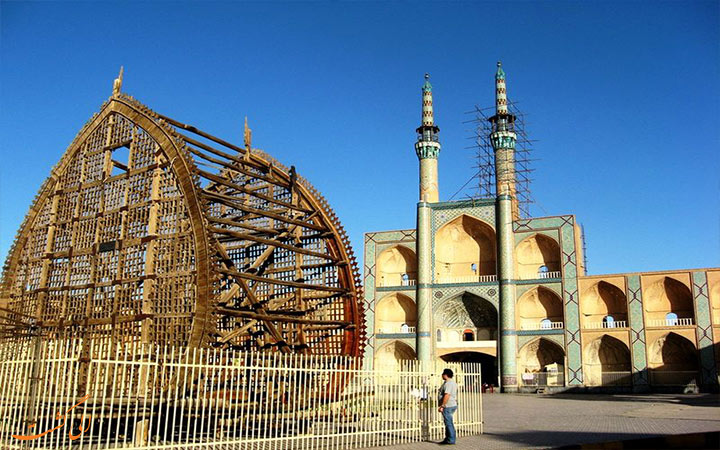 Haji Qanbar Market
In the Pahlavi era, with the construction of Shah's street, the Haji Qanbar market of Yazd, which forms the backbone of the old city of Yazd, is divided into two parts, and some of its parts were destroyed. To this historic market, you will feel the rectory of the northern part of this Sabbath to other parts. Most of the goods sold in this market are fabrics, yazdi sweets, gold and carpets.
Amir Chamgaq water storage
The water of Amir Chakhmaq, dating back to the Safavid period, is located next to the Hajji Qanbar market and was nationalized in Tibet in 1385. This field has a total of three water reservoirs, only two of which remain today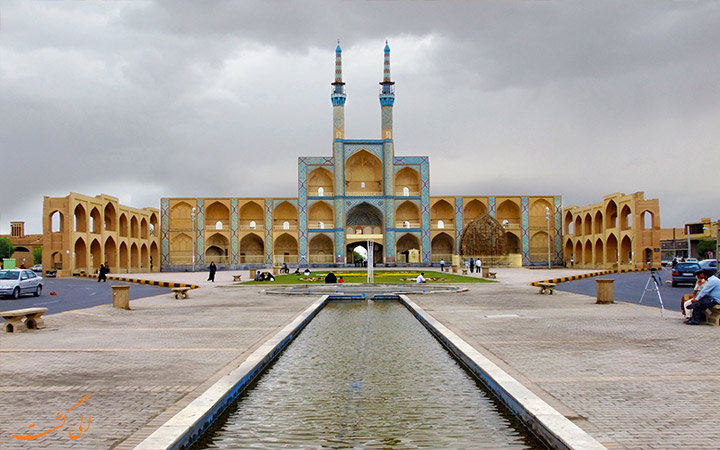 Rely on Amir Flint
Reliance on Amir Chammaq is located in the east of Amir Chammaq Square, and the entrance to the water reservoir is based on one of the pavilions of the western side. Relying is in fact a place with so many booths that people gather in during mourning ceremonies. In the thirteenth century, it was built with two large minarets on the market.